Fast Track Newsletter - November 2015
Welcome to the November issue of our Fast Track Newsletter.
In this issue, we would like to invite you to read two articles written by Energy Engineering (LCV) and Racecar Engineering (DSEI) Magazines as they recently interviewed the Managing Director of Claytex. You can also gain access to the papers that were presented at different exhibitions and conferences in September and watch a webinar on 'modelling and validating complex multi-physical systems'.
In the next couple of months, Claytex will be exhibiting and presenting at the North America Modelica Users' Group Conference, the Multiphysics Simulation for Autosport/Motorsport Applications Seminar, the Precision Fair and the EEVC. Please visit our stand for a chat on potential partnership opportunities.
Please feel free to forward this newsletter to your colleagues/friends and follow us on LinkedIn and Twitter for more exciting news and information about systems engineering, modelling and simulation.
Announcement

FMI Blockset For Simulink 2015.1 Now Available

A new version of the FMI Blockset for Simulink is now available. The key enhancements in this release include: Full support for FMI 2.0 Model Exchange standard; Added support for network license borrowing through the Claytex License Manager ...

Read more

In the News

Energy Engineering Magazine Interview Claytex

Steve Welch, Managing Editor at Energy Engineering Magazine Interviewed Mike Dempsey, Managing Director of Claytex discussing the company's expertise in Modelling & Simulation and the recent projects with key automotive manufacturers.

Read more

In the News

Racecar Engineering Magazine Interview Claytex

Defence Engineering Special Issue - DSEI: 'An HED combat vehicle does not exist as yet, but we have all the components ready so we could implement it into a vehicle now', says Mike Dempsey, Managing Director of Claytex.

Read more
Together, we can visualise tomorrow & engineer the future better.
Webinar

The POWER OF 'MODELICA' AND 'DYMOLA' : 'A HYBRID EXAMPLE'

Learn how to model and validate complex multi-physical systems. Watch this webinar to discover how the power of Modelica and Dymola can be used to quickly model, configure, simulate and validate the many different systems in a hybrid electric vehicle.

Read more

Claytex Papers

Claytex Presented at International Exhibitions & Conferences

Battery Modelling for Future HEV and EV Product Development | High Fidelity Multibody Vehicle Dynamics Models for Driver-in-the-loop Simulator | Modelling the effects of energy efficient glazing on cabin thermal energy & vehicle efficiency

Read more

Technical Article

Driving Simulator Technology and How Automotive Manufacturers Will Benefit

With the advent of high-speed computing, simulation in an off-line software-based environment became popular because it enabled vehicle performance calculations to take place in advance of, or currently with, the testing of actual prototypes.

Read more
Events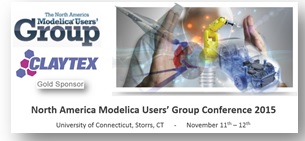 As a gold sponsor of the event, Claytex will be presenting during the morning of the 11th November. We will talk about a number of customer projects where our range of Modelica libraries for Engines, Powertrains and Vehicle Dynamics have been applied.

Paper: Multi-Domain Simulation of Hybrid Vehicles​
We are delighted to present at the UK Magnetics Society's seminar at the Williams F1 Conference Centre.

Paper: Sensor Accuracy in Vehicle Safety
Claytex look forward to exhibiting and presenting at the Precision Fair in The Netherlands.

Paper: An Extended Acausal Li-Ion Model for EV Applications
Battery, Hybrid and Fuel Cell Vehicles are ready. Challenges, Opportunities and Outlook. A conference aimed at developing synergies!
Our Range of Systems Engineering Solutions:
Designing & validating critical control software applications

Find out more
| | |
| --- | --- |
| Copyright 2015 All Rights Reserved. | |
website: www.claytex.com - Tel: +44 1926 885900
email: sales@claytex.com or learn@claytex.com

Fast Track Newsletters 2015
Click here
to forward this message to a colleague.
If you do not want to receive future email communication from us, please use the link:
unsubscribe
Claytex Services Limited, Edmund House, Rugby Road, Leamington Spa, - CV32 6EL